You want your campers to leave your summer camp with treasured memories. You don't want them leaving with bed bugs or sleep deprivation from old or dirty mattresses.
Consider replacing your camp bunk bed mattresses with the mattresses offered by ESS Universal. Why choose ESS? The following are just some of the benefits of an ESS camp bed mattress:
Comfortable
We use high-density foam in each of our mattresses, which conforms to each user's body shape.
This means that your campers will get their rest after a long day of camp fun. The satin-like material is breathable as well as hypoallergenic, so your campers stay cool and comfortable throughout the night.
Quiet
Vinyl materials can be noisy when sleepers change position during the night. The satiny covers on our mattresses are whisper-quiet, guaranteeing quiet sleep night after night.
Waterproof
When a mattress absorbs moisture, it can foster the growth of mold, mildew, and bacteria. Our mattresses are waterproof and machine washable, so you can accommodate your camp guests cleanly and comfortably.
Durable
The durable materials of our mattresses ensure that you won't need to replace them for quite some time. This maximizes your camp's operating budget, and gives you the confidence that your mattresses will remain in good shape even through repeated use and washings.
Resistant to Bed Bugs
Perhaps most importantly, our mattresses are specifically engineered to resist bed bugs. You and your staff can have confidence that your camp mattresses aren't housing any "unwanted guests."
Easy to Clean and Keep Sterile
The cover on each mattress is easy to clean, either by putting it into the machine, or by wiping it down with a wet cloth between uses. This ensures that you can quickly sterilize your mattresses between each use—a must during busy summers when you have a high turnover between guests.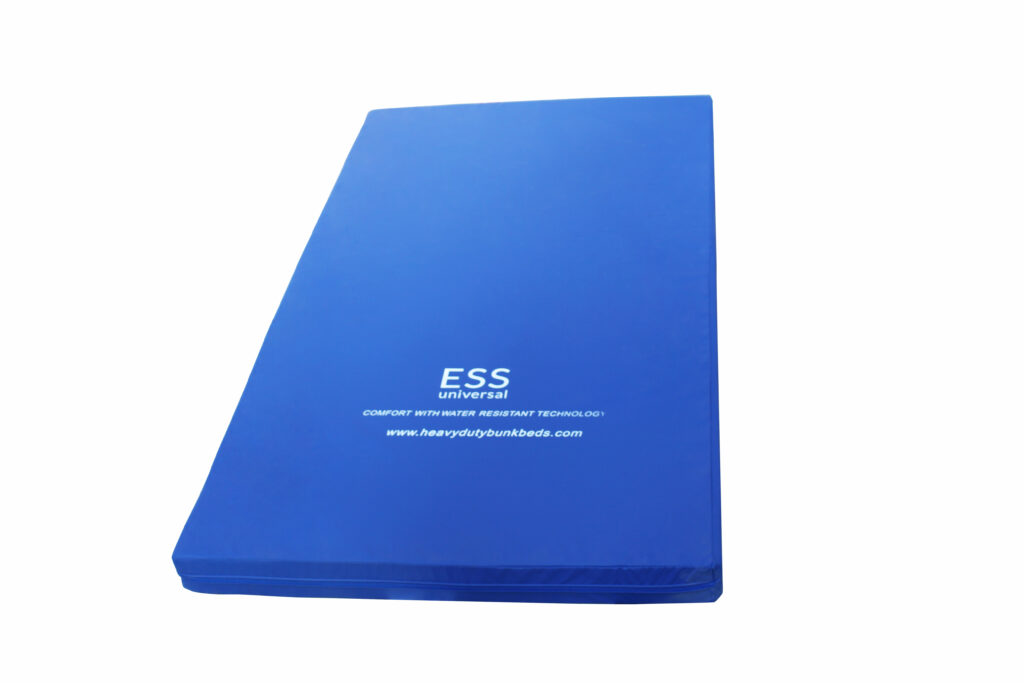 The Difference an ESS Camp Bed Mattress Makes
Don't just take our word for it. Our products have satisfied the needs of many customers, including the good people of Green Valley Lake Christian Camp in California:
"Thank you, Your bunk beds are a God-send! I expect these beds to last 20 years… I want to thank you for making our work here at Green Valley Lake Christian Camp trouble-free when it comes to a great product and great customer service. May you be blessed in your endeavors."
We've received similar praise from the Girl Scouts of Eastern Iowa and Western Illinois:
"I saw the heavy duty bunk beds from ESS Universal at a conference and liked how they looked. I climbed up on the sample bed and tried to tip it but it was as sturdy as the big wood beds we were building. I placed an order for 10 bunks and mattresses and they are amazing. They were easy to put together, sturdy, easy to clean, comfortable, and they look great. The mattresses are the best ones we have in camp and now all the adults want to sleep in the building with the ESS beds. I will never build another bunk bed again."
When you choose ESS for your camp's mattress needs, you know you're getting incredible quality for a price you won't lose sleep over.

ESS Universal manufactures and supplies high-quality, cost-effective commercial grade beds, mattresses, and furniture to camps, hostels, shelters, dorms and more. View our entire line of furniture products including our popular waterproof foam mattress for institutional use, single metal bed frames, single over single bunk beds, single over double bunk beds, and triple bunk beds. Download our catalog for detailed information on our complete product line.