Hostel Bunk Bed Safety
ESS has compiled some basic safety requirements when manufacturing or supplying where hostel bunk bed safety is concerned. This United Nations (including Australian and New Zealand) mandatory standard prescribes the requirements for the construction, design and labeling requirements of hostel bunk bed safety, this also applies to adult bunk beds used by summer camps.
About bunks beds
The mandatory standard for bunk beds applies to:
a set of components that are assembled or are ready for assembly into single beds or double/single combination beds that will be stacked one over the other
any single bed, other than a hospital bed, where the top of the mattress base is at least 800 mm above the floor surface.
The mandatory standard prescribes the requirements for the construction, design and labelling requirements of bunk beds.
Hazards
Falls are the most common source of injury involving a bunk bed and can be fatal. Children can suffer serious injuries such as concussions and fractures if they fall from a raised/upper bed.
Strangulation or accidental hanging can occur if children have their head or neck caught between gaps in and around the bunk bed, or if clothing is snagged on parts of the bed that stick out.  Children's heads and limbs can also become trapped within gaps in the bunk bed structure.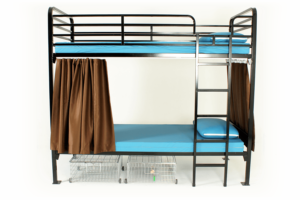 Mandatory standard
The mandatory standard is based on certain sections of the voluntary Australian New Zealand standard AS/NZS 4220:1994 Bunk beds.
You must consult the mandatory standard for these details.
Mandatory requirements
These requirements aim to give ESS customers a general idea of what is required by the mandatory standard when choosing contract bunk beds. Suppliers must not rely on this information as a complete guide to compliance.
Design and construction
Guardrails
Bunk beds must have permanently fixed guardrails to all four sides and ends, with a minimum vertical distance between the upper surface of the guardrail and the upper surface of the mattress base of 260 mm.
No dangerous gaps
Bunk beds must not have any dangerous gaps that can trap a child's head or limbs.
No protrusions
Parts of a bunk bed that stick out (protrusions) greater than 8 mm are not allowed as they provide hanging points that can lead to strangulation or accidental hanging.
Informative labels
Bunk beds must come with a label or marking indicating the maximum mattress height on the raised/upper bed where the height of the guardrails is less than 360 mm. This is to ensure that the effective height of the safety barrier is maintained to prevent children falling.
Does this apply to your business?
Under the UN or in this case Australian Consumer Law supply includes:
in relation to goods – (including re-supply) by way of sale, exchange, lease, hire or hire-purchase
in relation to services – provide, grant or confer.
This ban applies to anyone in the business of supplying this product, including:
manufacturers
importers
distributors
retailers
hirers.
Choosing hostel bunk beds from Equipment Supply Solutions you are assured that every bunk bed has been designed to meet ALL mandatory regulations
Contact an ESS representative in your country today to learn why your investment in real contract quality bunk beds