London Hostel industry
Looking at the London Hostel Industry, there are over 1500 Hostels in the London area which might not be so surprising but seems alot when compared to Amsterdam which has only just over 100 Hostels.
One of London´s iconic Hostel is Wombat´s city Hostel. Located in central London, it´s the perfect place for resting your lungs and having a good time in the Basement Pub. The details implemented into the Hostel atmosphere is awesome and let´s you take a trip within your original trip to London.
While Hostels keep popping up in London, statistics show that the market had maybe come to a standstill.
A couple of factors that affect the Hostel industry:
Global economy is growing
European markets are recovering
Visitors number has grown
Value of the Pound has dropped because of Brexit
2018 compared to 2017
Because of Brexit, local UK traveller are probably not going to spend as much money on Hostel accommodation in 2018 compared to 2017. However, whenever a value of a local currency depreciates, other currencies grow stronger so foreign tourist might fill up that gap that local travellers will create. London´s occupancies in 2018 was estimated at 83%, which is an increase from 2017 by 0,2%. Reports show that the main reason for the growth is budget Hotels (Hostels that offer cheap accommodation).
What can ESS do to help
It´s a tough market and every Hostel is fighting to keep their occupancy high. What Hostels are also doing is to keep their cost low. ESS Universal offers everything a Hostel needs, from heavy duty bunk beds to waterproof mattresses to lockers.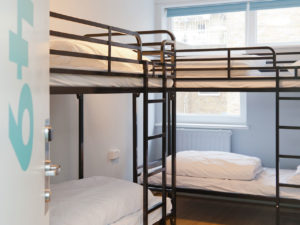 Our motto is to help Hostels generate revenue by offering a line of products that will outlast any other products on the market. London is a busy city and the Hostel market is very tough, ESS can make it a little easier.