Sterile beds and bunk beds is not such a far fetched idea when choosing ESS Universal Dallas, Missouri bed and bunk bed ranges, coupled with the ESS medical or camp type mattress, you have the perfect equipment to ensure your valuable assets can be sterilized especially in these uncertain corona virus times.
With normal everyday beds and bunk beds, it is nearly impossible to sterilize 100 percent, however due to the ESS Universal smart metal design, Here at ESS Universal we have learned of another great safety benefit; our beds and bunk beds can easily be wiped down with a sterile solution and clean cloth. The shinny smooth metal surfaces and joint are easily accessible and our 'No Hole' policy in joints mean you don't miss any probable contaminated surface.
Corona virus cannot hide on ESS equipment!
Shinny gloss surfaces that have no indentations, holes or obstructions makes easy work of cleaning and indeed sterilizing; this applies to all ESS Universal metal beds and bunk beds. Even the ESS Universal product accessory range is designed for ease of cleaning, the ESS L1 under bed locker design is gloss powder coating uses a mesh cage design that allows very little flat surface area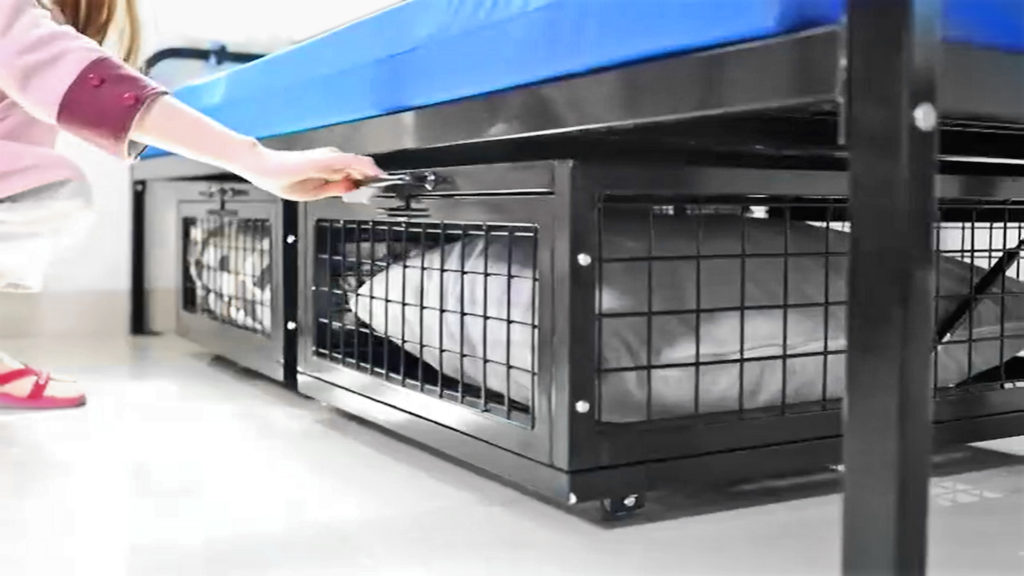 MAGIC CAMP MATTRESSES
Yes our M1 mattress range can be considered as the very best option for hygiene as well as superior comfort, the high density foam core allows body contouring for the perfect sleep, don't let the 100mm [4″] thickness deter you, this mighty mattress packs a punch where adult comfort is concerned.
Encased in a safety standard fire barrier, the M1 range carries all necessary safety certificates and has zero nasty chemicals that can cause so many respiratory issues. Finally the best of them all, unique to ESS Universal, our M1 range has a fantastic cover [well that's what we call it here at ESS], the blue PU coated water resistant cover protects in so many ways; just read below and learn the amazing benefits of the magic cover:
A soft satin feel that makes no noise
Water resistant, handy for when the kids soil mattresses at camp
Remove by a zip, sterilize with hot machine wash, refit!
Breathable material let air in and out reducing the likelihood of sweating
Get over 5 years of use with normal wear