ESS Bed Bug Resistant Bunk Beds
Why should hostels, universities and camps choose ESS bunk beds?
Since ESS introduced their first bunk bed in 2011 a lot of things have changed in the bunk bed industry. Bunk beds are lighter, cheaper and so are their design. One thing has not changed and that´s the war against bed bugs.
Everybody knows what bed bugs can do to a weary traveler: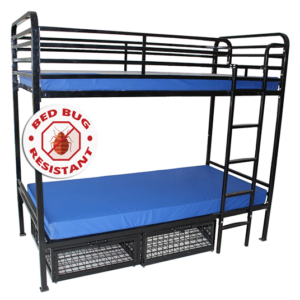 Bed bugs can damage their health
Bed bugs can damage their clothes and luggage
What can bed bugs to the business:
Bed bugs can ruin the bunk beds
Bed bugs can ruin the mattresses and covers
The ESS Dallas Production Line
The Dallas is the strongest bunk bed on the market and it´s proper built! It is designed to be bed bug resistant, leaving no space or holes for those suckers to hide. Proper welding is crucial and is one of the Dallas key features that set´s it aside from any other bunk bed on the market today.
ESS Word of Mouth Marketing
Since ESS company´s policy is to not spend heaps of cash on marketing, and eventually let the customers pay for it, it relies on Word Of Mouth Marketing, the oldest method of retail marketing. Our customers have, since 2011, had zero incidents of bed bugs ruining their business. But we have heard so many stories from hostel owners, camp owners and universities representatives that have confirmed what ESS has known from the very start. Don´t cut corners in the production or when looking for an honest and reliable supplier. Choose only what´s best for your business and don´t settle for anything less. If you do so, you are asking your customers to do exactly that.
ONLY SETTLE FOR THE BEST BUNK BEDS AVAILABLE – CONTACT ESS TODAY.