Since ESS introduced the 2019 bundle-offer we have had overwhelming responds.
ESS Spring bundle-offer consists of 1 x Dallas single over single bunk bed, 2 x ESS Waterproof/Washable (Cover) mattresses and 2 x underbed storage lockers. Minimum quantity per bundle is 10 bundles. The price of the Bundle is only 650 GBP / 725 EUR!! Shipping (CIF) is of course FREE!.
ESS has, from day one in 2011, gone above and beyond for it´s customers, and are very excited to finally be able to offer it´s clients this phenomemal offer which beats every suppliers price out there.
Why choose the ESS Bundle Offer: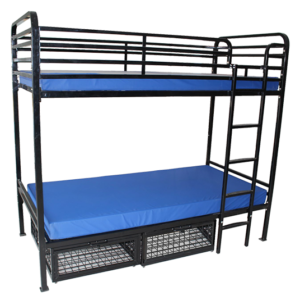 Very good price
Guaranteed quality
The Dallas single over single will outlast any other bunk bed on the market
Best Bundle deal out there
3 year warranty
The Dallas is the strongest bunk bed on the market. It´s design withstands heavy duty use 365 days a year. It´s bed bug proof because it gives them no place to hide or nest. Proper welding is crucial and is one of the Dallas features that set´s it aside from any other bunk bed on the market. Each platform can hold 250 kgs. and is supported with 6 box section cross members along with heavy duty wire mesh.
The ESS mattress is a perfect companion of the Dallas bunk bed. The mattress cover is water resistant and can be removed and washed at high temperature, protecting the foam and making it last substantially longer. It´s bed bug resistant and breathable and will not wake up a sweaty sleeper.
Designed for protecting valuable possessions of the traveller and to save space for the business owner the Under Bed Storage Locker is another perfect companion to the Dallas bunk bed. It´s breathable design saves cleaning time and maximizes the use of space.
Please contact us at ESS for more Bundle offer options, simply click this link.