Bunk beds are an ideal choice for any facility looking to optimize sleeping arrangements for guests.
Whether you own and operate a camp, you run a hostel, or you're outfitting campus dorms, for example, you want comfortable and resilient bedding that takes up less square footage while providing for greater bunking capacity.
With the ESS twin over full bunk bed, you can meet all of your objectives and more, and these bunks even work great in households that frequently host family and friends for overnight visits.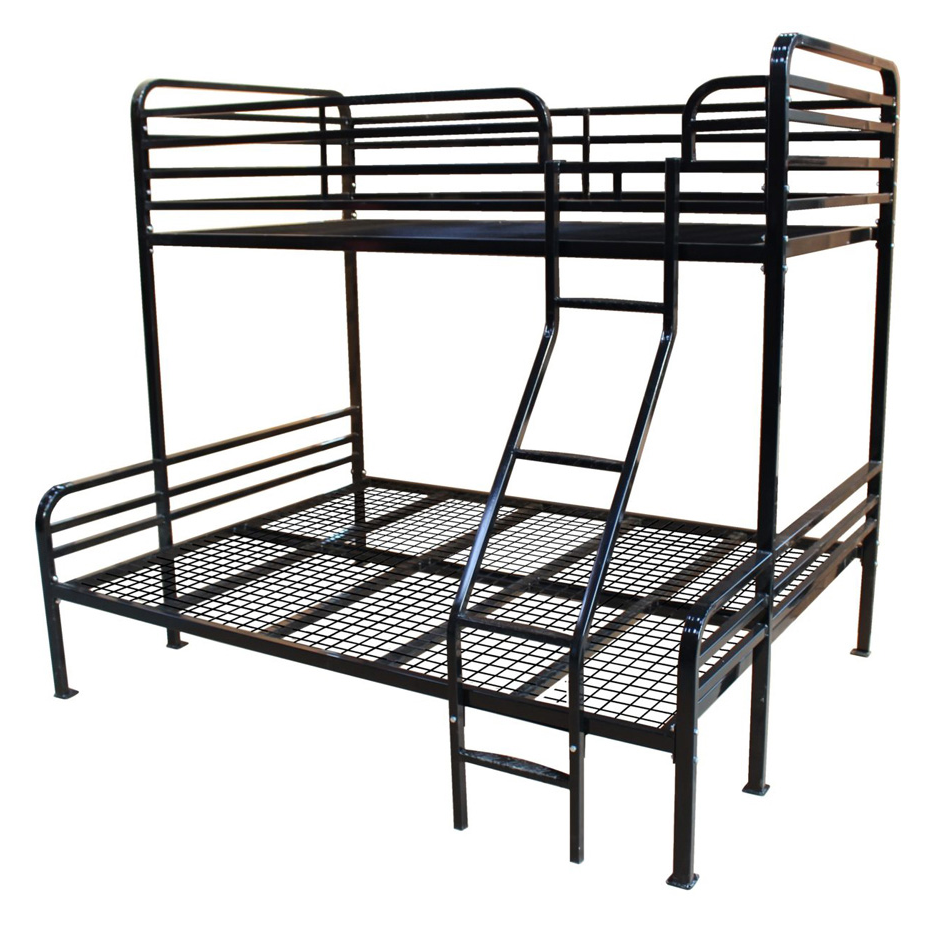 What makes the Dallas Single Over Double Bunk Bed the best choice for your facility?  Here are a few benefits to recommend this functional and attractive setup.
Family-Friendly Sleeping Arrangements
Twin bunks stacked two or three high are great for kids or single adults, especially when you consider that ESS bed frames are 80 inches long to accommodate even tall guests.
However, the twin over full bunk bed, in particular, offers family-friendly sleeping arrangements, with a bottom bunk wide enough to accommodate two grown adults and an upper bunk perfect for a child or even another adult, especially with guard rails for added rigidity and safety of sleepers.
Families may feel more comfortable sticking together, especially with younger children in tow, and a bedroom setup that accommodates parents and a kid (or even kids, depending on their age and size) is ideal.
If you frequently host families, this is the absolute best product to cater to their needs.
Strong, Durable Construction
The Dallas Twin Over Full Bunk Bed from ESS is made to last, with six legs for superior strength and stability and platforms that feature six box section cross members topped by industrial-strength metal mesh panels.
This means that each bunk bed platform (top and bottom) is rated to accommodate up to 500 pounds safely and comfortably.
Further, ESS' heavy duty bunk beds meet stringent safety standards and deliver sturdy and durable framing designed to last.
Resistant to Water and Pests
ESS bunk beds are designed not only for durability, comfort, and safety, but also to serve the needs of facilities in a variety of settings that cater to a revolving door of guests.
ESS frames feature metal tubing that is welded on all four sides to deliver resistance to the intrusion of both water and pests.
You needn't worry about issues like mold, mildew, bed bugs, and so on when you choose ESS products.
Favorable Warranty
Not every manufacturer is willing to put their money where their mouth is, so to speak, by offering an extended warranty on their products.
ESS is so sure products will last that every bed frame includes a 3-year structural warranty.
A Comfortable Night's Rest
ESS frames are designed for comfort and stability, but they're made even more conducive to delivering a good night's rest with the addition of perfectly sized waterproof foam mattresses, featuring semi-firm, high-density foam that gently conforms to the body to cradle the sleeper.
These mattresses are hypoallergenic and designed to keep sleepers cool, and silky, machine washable coverlets are resistant to water and bed bugs.  All in all, twin over full bunk beds from ESS are the perfect way to accommodate families seeking a safe and comfortable respite.
---
ESS Universal manufactures and supplies high-quality, cost-effective commercial grade furniture products. View our entire line of commercial furniture products including our popular waterproof foam mattress for institutional use, single metal bed frames, single over single bunk beds, single over double bunk beds, and triple bunk beds.