Winter is renovation time! In the northern hemisphere winter is fast approaching ensure you use true heavy duty bunk beds to compliment your hostel renovation. Heavy duty bunk beds or hostel bunk beds are the tolls of the trade at any backpacker hostel, summer camp or anywhere paying guests are being accommodated.
hostel bunk beds in Australia? Of course, ESS is a true global company ensuring you get full size top quality adult bunk beds no matter where you are in the world!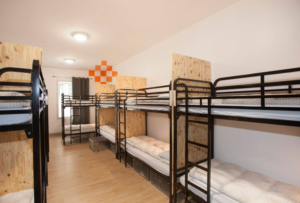 Camp bunk beds being used at Green Valley Camp California
Why take the risk? Camp Bunk beds manufactured by Equipment Supply Solutions (Global) are prized for their robustness as well as aesthetics. Hostel bunk beds in Australia are traditionally designed for the domestic market, ESS has cleverly designed the Dallas heavy duty bunk beds to last! With thicker steel and seam welding, foot bolts that allow the hostel to bolt to the floor, surely the Dallas range of adult bunk beds are the very best that money can buy.
Space is everything!
Skyscrapers were designed to have many floor levels in a one level place, the bunk bed is no different, most hostels and camps are now discovering the Equipment Supply Solutions Triple Sleeper bunk bed, this cleaver design shares the same strength as the mighty Dallas D2 hostel heavy duty bunk bed and also has foot plates allowing the hostel or camp owner to secure the heavy bunk bed frame to the floor. Being a triple tier bunk bed, the D3 had to of course accommodate most of the heavy duty bunk beds accessories that the Dallas D2 boasts, below is anm image of the Equipment Supply Solutions D3 and Utility Panel.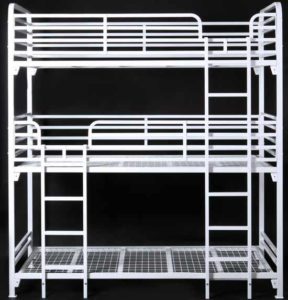 The compartments in an ESS triple tier bunk bed allow enough headroom for sleeper comfort, however at night trying to find your way into any bunk bed is difficult as the light switch is any room is normally far away from the bunk bed and mostly near a door. ESS has developed the bunk bed utility panel, a smart wall mounted system that gives many benefits apart from a night light within each compartment
gives top shelf storage within your heavy duty bunk beds
USB port for smart phone charging
Power socket for charging laptop or tablet
A cooling fan to move the air within the heavy duty bunk beds compartment
A handy night light that can also be used as a reading light
A secure locker big enough to store a large smart phone or valuables
A foldaway drinks holder allows a disposable cup to be secured
Get heavy duty bunk beds and utility panel as part of your hostel renovations at Equipment Supply Solutions (ESS)