The Dallas bunk bed
The Dallas single over single bunk bed is ESS most popular product. Since ESS started the Dallas has gone through some changes but is fundamentaly the same as it was from the very beginning. ESS focus on safety and durability which is why the Dallas is designed to be the safest bunk bed on the market and to outlast any other bunk bed on the market.
The Dallas has been sold all over the world, from Detroit to London to Perth in Australia. It´s been used by many hostels, summer camps, military, universities and even monestarys.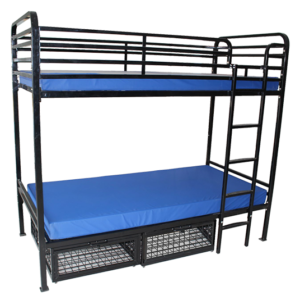 The benefits of the Dallas are:
One of the strongest bunk bed in the world!
Full adult size and bed bug resistant
No springs / No squeaks
Each platform holds up to 250 kg.
Great option to maximize the floor space
Comfort steps on ladder
6 box section cross members with industrial-strength metal mesh panels
The Dallas accessories
ESS has gone above and beyond to be a one-stop-shop for their customers. The M1 waterproof mattress with washable cover is a perfect fit to the Dallas along with ESS under bed storage lockers and bunk bed baskets for all your personal belongings that you want to keep close to your bunk. All these products are designed to fit the Dallas perfectly and to enhance the customer´s experience. The hospitality business is ruthless, every customer has a voice and that voice is being heard on websites like TripAdvisor and also on social media. ESS tries it´s very best to make that voice positive.
Priced right
Although the Dallas is probably the strongest and most durable bunk bed on the planet it´s not reflected in the price. It´s even cheaper than a regular, domestic bunk bed from Ikea. The reason is low overhead, efficient production and the practice of honest business.