There are a growing number of metal bunk bed manufacturers around the globe but a company named ESS are the commercial bunk bed manufacturer that has made a true statement hostel bunk bed manufacturer makes another leap forward.
The cleaver design team at ESS has devised a bunk bed Pod system that gives the bunk bed a closed personal space; simply by adding a privacy panel system on the ends and front of a standard commercial bunk bed has made the Missouri bunk bed hugely adaptable at a very low cost to the hostel bunk bed buyer.
The way ESS has announced that a hostel bunk bed manufacturer makes another leap forward is due to the continued design improvements of many existing as well as new ESS products. For example this cleaver team has brought to market:
Complete bunk bed bed bug free designs which is a huge issue in most doritories
Bed bug free and maintenance free mattresses and under bed storage lockers
Emergency disaster relief bunk bed system that has yet to have a final launch date
Now back to the new Missouri bunk bed pod system, this cleaver design is shown in the image below
Hostel bunk bed manufacturer at its best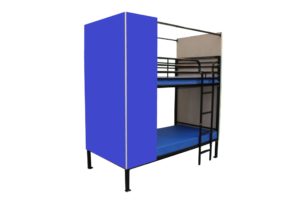 So this hostel bunk bed manufacturer has taken a leap forward to give an amazing privacy system which they say 'Just add curtains'.
Of course as we have mentioned previously that ESS has cleverly designed and brought to market the L1 and L2 under bed storage lockers specifically for hostels and dormitories as a space saving idea, these are great especially in a large city where space is a premium!
Let us look how this hostel bunk bed manufacturer has installed these commercial bunk beds in a typical dorm setup. As we say at ESS safety and practicality is paramount when utilising available space.
Looking at the perfect dormitory cabin bed setup from a hostel bunk bed manufacturer point of view